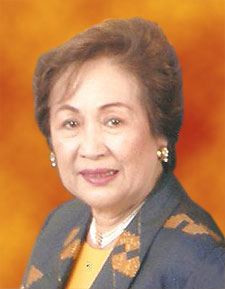 We approach the new biennium amid numerous global crises.of climate change, deepening armed conflicts and acute food shortage in many parts of the world. In the Philippines, we are faced with a critical rice shortage escalating prices of oil and an expanding Muslim insurgency in Mindanao. The Visayas region is reeling from the devastating effects of typhoon Frank never yet experienced in recent memory.
As soon as the euphoria of the recent Taipei Convention tapers off, SIPR braces itself for the myriad tasks ahead. During the first month of my term, I have presided over many installations of officers and induction of new members, giving me inspiration and hope that SIPR will prevail in the goals that it had set for itself this year. I dream of increasing membership and bringing the number of clubs to a hundred at the end of this biennium. I have created new committees, the Nurturing Committee meant to strengthen weak clubs among others. We have mobilized our IT team to upgrade our SIPR website, dormant during the last few years, started with computer literacy training for the SIPR Board, aimed to enhance our communication capabilities, streamlined our reporting system, making it easier for presidents to prepare reports.
We have wholeheartedly embraced SIA directives to pursue the Rennaissance Campaign and dedicate our energies towards projects that benefit women and girls in our communities. Our commitee on "Stop Trafficking of Women & Girls" will be joining us in the district meetings that will commence in September. Our 5th National Biennial Policewomen Summit, an enduring partnership between the PNP, SIPR and the Friends of the PNP Foundation, is slated September 11-12 in Bohol province withthe theme: Empowered Women: Capable and Effective Managers of the PNP. SIPR is fortunate to have capable and incredibly empowered Board and Region officers, a group of unselfish and truly generous women, whose main addiction is volunteer service. What is my ultimate dream? I dream that Soropimists adhere to their pledge to the ideals of Soroptimist foremost of which is the "Sincerity of Friendship". I have found lifelong friends in SIPR and working with them becomes pure joy. Let us all work together, build our teams and live our dreams.