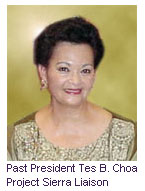 SIA – PROJECT SIERRA UPDATE
By PP Tes Choa
1.Katie Sapna, the Service & Federation Committee Chairman of SI Seaford, Delaware reports that her club has decided to contribute $5,000 to Project Sierra this year.
2. Carell Wingrave, Past Governor of Western Canada Region joined the marathon in England. Her club is SI Edmonton. She was met by SIGBI members from 5 clubs along her route, entertained and kept her company. Alison Sutherland and Anne McDonald, the SIGBI Liaison for Project Sierra also met her. They all admired her energy. Carell will contribute an article to the SIGBI Soroptimist magazine in their June issue. Attached is her article submitted to the Action Line, Western Canada Region Newsletter. B J Gallagher reports that at their Calgary Region Conference the clubs of Western Canada donated a total of $3,400.00 for Project Sierra and $1,000 of that came from Carell's Club, SI Edmonton.
3. SI Abbotsford-Mission of Canada invited to their club meeting a speaker who had worked with the special war crimes court in Sierra Leone. This club raised over $1,000.
4. Past SIA Federation Director Sandy Schultz has been busy giving presentations at various club meetings and in her own district. She starts with a powerpoint presentation and ends with the DVD on Sierra Leone. To date she has given 5 presentations and 2 more are scheduled. Her region is Camino Real.
5. Bobbi Enderlin is the Founder Region Ambassador for Project Sierra. She made her presentation at their region conference and many expressed interest. All the clubs in their region have been supplied with the DVD on Sierra Leone. Bobbi explored the possibility of printing cards to sell at profit for Project Sierra. Their region – founder Region is now selling Project Sierra notecards, bookmarks and pins at all their district meetings and conference. Alison Sutherland managed to give the artwork on the cards. All proceeds will be donated to Project Sierra.
6. Elizabeth Camp and Myra Lau successfully presented at the Irwindale Community Center to promote Project Sierra. They got a lot of help from Michelle Bart of SI Irwindale. Michelle is a District Director of Founder Region. Elizabeth Camp spoke at the club meeting of SI Glendora.
7. Francesca Conate is our Associate Member who lives in Tokyo. Recently she successfully climbed Mt. Fuji last August 10-11th to promote awareness about Project Sierra. She will share her experience at the Higashi Region conference in October to raise awareness and funds for Project Sierra.
Her work takes her to West Africa and she knows the villages that we are helping in Sierra Leone. She has distributed our flyers during the African Festival held in Tokyo last April 4-5th. She excitedly reported that President Ernest Bai Koroma of Sierra Leone would be visiting Yokohama in May for the TICAD IV (Tokyo International Conference on African Development). The Foreign Affairs Minister of Japan, Mr. Masahiro Koumura met with Zainab Hawa Bangura – the woman Minister of Foreign Affairs and International Cooperation of Sierra Leone. Notes on assistance to Sierra Leone in the electric power field were exchanged. Japan will continue to assist Sierra Leone in the development of that country as they achieve peace and stability in West Africa. Japan will actively assist in peace-building and contribute to the welfare and development of Sierra Leone's human society.
6. Past Gov. SIA Southern Region and President of SI Largo Mid-Pinellas Country in Florida, June Wallace presented at their region conference and made a plea to all the clubs to place extraordinary amounts in their July 1, 2008 –June 30, 2009 budgets for Project Sierra. They are most eager to meet the Quadrennial goal of $2M. Alison Sutherland informed her that by April 14, 2008 – the total amount of $160,000 has been raised.
7. Gov. Donna of Desert Coast Region had asked each club to bring a corsage to auction off in a silent auction at their Spring Conference (April 18-20). These corsages were worn by the recipients at the installation and celebration of Desert Coast Region 30th anniversary. All proceeds will be donated to Project Sierra.
8. Anne MacDonald, the SIGBI Liaison for Project Sierra emails me to say that 2 Soroptimists from the Rhyl Club (Cheshire, North Wales & Wirral Region) are planning a "Walk to New York" in September, to raise money for Project Sierra. Imelda Jones and Shirley Jones (not related) plan to walk from the center of London to a hotel on the outskirts of Heathrow Airport and then fly overnight on the 13th September to New York. The next day, they plan to walk to the center of New York. They have been in touch with Linda Stillman who will show them around the UN Building at some stage and they will present her with a message of peace. They have also contacted the SI New York Club, care of Pres. Yoko and some of their members plan to meet the two ladies on the Brooklyn Bridge.
9. SI Pres. Margaret Lobo gave a report on Project Sierra at the SIA Convention in Taipei to almost 1,800 members. A video was presented and SIA Pres. Elect Cathy Standiford modeled a dress worn by women in Sierra Leone.
10. Judy Lewis appreciates the "Count your Blessings" idea given by SI Carlisle. Power Point presentations and DVDs have been given to all the clubs in her region - Sierra Pacific Region.
11. Alison Sutherland reports that L106,851.11 or roughly $210,000.00 have been raised and given to our Sierra Leone project partner. Of this total amount, SIA raised L51,442.95 or US$103,400.00. Please bear in mind that our pledge for the Quadrennial Project is US$2Million.
To all Project Sierra Ambassadors, my heartfelt thanks for your dedication and commitment to this very worthy cause, our SI Quadrennial Project.