SOROPTIMIST INTERNATIONAL OF THE PHILIPPINES REGION (A FOUNDATION) INC.
August 23, 2008
To : Club Presidents
Cc: District Directors

From :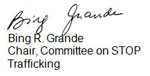 Re :
Soroptimist STOP Trafficking Project
Guidelines for Clubs - Biennium 2008-2010
SIA's current thrust, the Soroptimist STOP Trafficking project, was launched to raise awareness about trafficking and sexual slavery and to enjoin Soroptimists and communities to take action to prevent and put a stop to it. SIPR strongly commits its support and active participation in this project.
As you know, all Soroptimist clubs are asked to participate in the Women's Opportunity Awards plus at least one other impact project benefitting women and girls. As sexual trafficking is one of the most urgent and important global issues affecting women and girls today, I am asking you to make that one additional impact project a Soroptimist STOP Trafficking project.
Objectives, Strategies, Projects/Activities
To raise awareness among (a) Soroptimists; (b) constitutents in adopted barangays; and (c) the general public about the crime of trafficking, and to work towards a continuing and increased public awareness on the issues and problems involving sexual trafficking.
participate in the SIPR Logo Design Contest (please see mechanics)
conduct seminars for club members, the barangay and the general public
invite knowledgeable speakers from SIPR's Speakers Bureau
show videos and films on trafficking available in SIPR
read SIA's white papers on sex trafficking
partner with the barangay, church or other civic group or, at the very least, involve them in the club's activities
involve S-Club members in your club's information campaign among students and in schools
promote the project in the trimedia and do an email blast
Distribute Soroptimist STOP Trafficking awareness rack cards in the community – health centers, social services agencies, libraries, schools, etc.
To integrate sexual trafficking issues in club projects, especially in projects on the Governor's thrusts on basic education, livelihood training, women's health and family spacing, for the awareness and prevention of potential victims and the healing, rehabilitation and re-integration of survivors to enable them to regain their self-dignity as human beings.
incorporate sexual trafficking issues in club projects such as gender sensitivity, values education (especially for families and including parents), teen dating, women's health projects such as (STD, HIV, AIDs, cancer), and livelihood projects
organize support groups for identified victims and survivors
include identified victims and survivors in the search for WOA and VRA
To work with other NGOs and GOs, particularly the PNP and the DSWD, in creating public awareness, collaborating in projects or in advocating for better laws to penalize traffickers, sex buyers and other perpetrators of sexual trafficking.
sign a MOA for the adoption of a barangay containing a specific mention of Sexual Trafficking
collect data and statistics at police and barangay levels and challenge officials to have Zero Sex Trafficking in their respective barangays
sign a MOA with PNP, DWSD, and other NGOs for joint projects
help law enforcers by learning how to identify both victims and perpetrators.
organize a barangay PimP Watch, and report to the PNP and DSWD businesses suspected of engaging in sexual trafficking.
boycott such businesses and advocate for barangay not to issue a business permit.
advocate for stiffer penalties for violators and perpetrators such as qualified trafficking (for those who hold positions of trust over the victims)
join other NGOs for advocacies for better laws - such as the Anti-Prostitution Bill
To help clubs carry out their projects, several Soroptimist materials and resources are available, such as:
SIA
Awareness Rack Cards – please click here to download
Model Program Kit - "Trafficking: Assisting Victims and Advocating For Change" - please click here to download
White Paper on Sexual Slavery – please click here to download
SIPR
Videos and Movies on Trafficking - please request copy of CD from SIPR
Format of Seminar to disseminate information about trafficking – available on request
Sample powerpoint presentation – available on request.
Thank you for your cooperation. Please let me know if there is anything else I can do to help your club on this important project. I look forward to working with you and your club members.
NOTED BY: